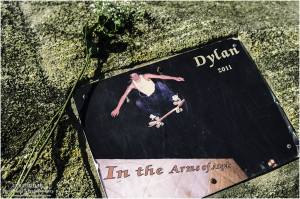 Skate4Life (S4L) is a 501 (c)(3) non-profit organization. We host the annual Skate4Life event and skateboarding competition in Raleigh, NC, with the purpose of celebrating life and promoting awareness for suicide prevention, and educating families on mental illness.
Our Goals
Skate4Life is geared towards teens and young adults. Skate4Life's goals for helping our youth are:
Raise awareness for suicide prevention and mental health
Increase support for those suffering from depression and help save anyone having thoughts of suicide
Make resources known and accessible
Bring the community together to celebrate life and our local youth
Our Story
Dylan and Cody
This event is in memory of James "Dylan" McNeill (6/4/92 – 2/1/11) and Cody Nelson Arrington (7/12/92 – 9/28/11), two local youth that tragically ended their own lives.
At the first event in 2011, we dedicated a memorial tree and plaque for Dylan. Cody skated and placed 2nd in the advanced competition and designed the original logo. 8 months later, Cody also took his own life.
In May of 2012, we planted a memorial tree and placed a plaque for Cody beside the one for Dylan at the 2nd Skate4Life event.
Each year, the event is kicked off by a brief memorial to all those lost to suicide and those still suffering with depression and mental illness.
Dylan and Cody loved to skateboard and spent most of their free time at Marsh Creek Park and other local skate spots. They were both passionate, kind souls that contributed so much to their family, their circle of friends and fellow skateboarders.
This event was created out of our love for them and to help raise awareness of the staggering reality of suicide among our youth.
---


Dylan's aunt and cousins flew in from California to be at the first event in 2011. They brought wristbands with them to hand out to the skaters. On the band it said "SPEAK, LIVE, SKATE". This has become Skate4Life's mission statement and is printed on every year's event wristbands.
---
Celebrating Life
Skate4Life has evolved into more than just a skateboarding event. We bring together the community to celebrate life and educate families on the signs of depression and suicide.
All money raised at our annual event or through tax-deductible donations will go to directly to support Skate4Life. All profits are recycled back into the local community through educational and athletic resources and events to celebrate life and promote our cause.
Thank you to everyone who has helped support Skate4Life in our mission to save lives through depression and suicide prevention awareness.
---
Get Involved
Support Skate4Life by becoming a sponsor or by donating a tax-deductible contribution.